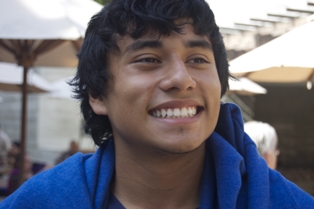 We have many great volunteer opportunities at Valley Village right now. You can help people with developmental disabilities by volunteering as field trip assistants, to work on a project, for an event, or in the office with administrative items.
Field Trip Assistants
This is a special opportunity to work directly with the men and women we serve through our day and residential programs. Field Trip Assistants will help push a wheelchair or just be a friend to talke to. The trips take place Monday-Saturday between 9am-3pm (trip hours will vary depending on the weather and location). Valley Village is looking for volunteers who can donate a few hours weekdays or Saturdays to join our clients on field trips to the beach, museums, malls, parks, and more. These direct-service volunteer opportunities do require certain background and health checks.
Valley Village has volunteer opportunities that are often great for groups, and all ages. Several times per year, we also host large events where we need lots of extra support. Around the office, the hours are flexible and on the field trips, consistency is needed. There's a volunteer match for everybody!
Please contact our Volunteer Coordinator by email or phone, (818) 587-9450, if you'd like to volunteer! To get a head start, you can download our volunteer application here.