SATURDAY JUNE 15, 2013
SPONSOR & ADVERTISING OPPORTUNITIES, DONATION REQUEST LETTER & FORM
PRESS RELEASE
Friend of Valley Village Bob Saget returns to host Showtime!. This is the 13th year that Bob has been involved. We've been extraordinarily lucky to work with Bob.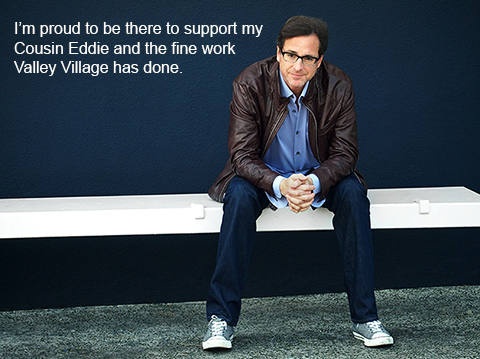 Showtime! is the major fundraiser for Valley Village, a San Fernando Valley 501c3 nonprofit that provides 17 family-style homes and three therapeutic day programs for some 400 men and women with severe intellectual and other developmental disabilities. Founded in 1971, Valley Village, headquartered in Winnetka, is the place where adults with developmental challenges thrive.
At the 2012 event, some 300 guests sipped champagne at the Garden Party and shopped for unique items at trendy boutiques. Then at noon, they enjoyed a comedy luncheon with the keen humor of Tavaré, who has appeared at many venues, including the Laugh Factory, and has created many notable characters. He is also an actor in films and television.
George Pennacchio, who is a three-time Emmy winner, was a stellar master of ceremonies for the busy afternoon with a live auction and a special fundraiser for an event for clients.. Showtime! also included online and silent auctions for upscale events, trips, collectibles and collectibles. "Showtime! helps provide services that our normal funding doesn't cover," explained Debra Donovan, Executive Director. "With our state budget being cut, we need to raise additional funds more than ever."
Sign up for our e-newsletter here to ensure that you receive the latest updates on Showtime! and other Valley Village happenings.